(2019)
Watchmen, in its original graphic novel form (published by DC Comics in 1986-1987), is legendary. Ever since the release of the comics, which was adapted for the big screen a decade ago by Zack Snyder (Dawn of the Dead, 300, Man of Steel, Justice League), fans have been craving for more.
Last year, the long wait finally came to an end when the critically acclaimed live-action follow-up series aired on HBO (now available on Amazon Prime). Hybride reunited with Visual Effects Supervisor Erik Henry to 'watch over the Watchmen', by creating a variety of impressive VFX, including squids (loads of them), one of Jupiter's moons, and a message written in frozen corpses...
---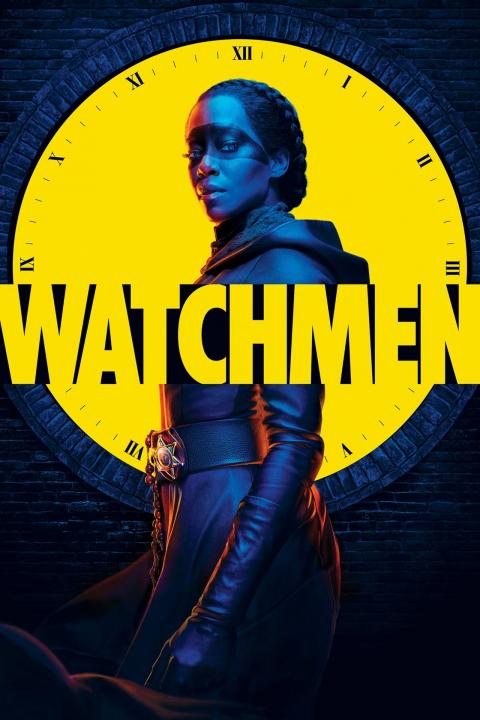 HBO'S WATCHMEN
It's raining... squids ?! 
Setting the tone for this 2019 version of Watchmen, Hybride's most creative VFX work in Episode 1 translated into squids raining down on the city of Tulsa Oklahoma.
The sequence refers to the Watchmen original graphic novel's ending, where a giant psychic squid is teleported into the center of New York City the center of New York City by Adrian Veidt on November 2, 1985. As Veidt predicted, world leaders believed the Earth was under attack by an alien menace and came together-ending the threat of nuclear war-to fight the new enemy.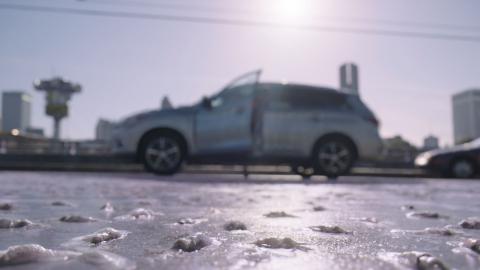 SQUID RAIN
As a reminder of this strange event, squids regularly rain down onto the city where residents seem relatively unfazed by the event. In this sequence, Hybride's extensive experience was deployed to create these tiny creatures that start dissolving once they've been in contact with the Earth's atmosphere. During their transformation, the squids needed to still be identifiable and preserve certain proprieties like viscosity, texture, density and transparency.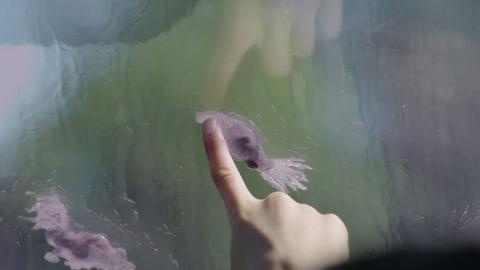 SQUID RAIN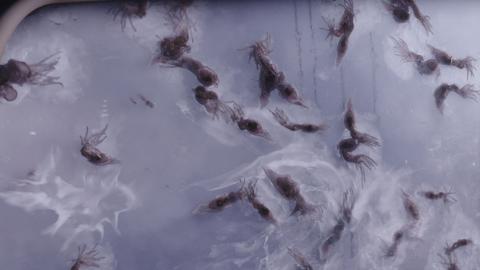 SQUIDS
Since each of them needed to dynamically interact with one another and their surrounding environments, several object resolutions were established to manage the high volume of squid and the varying distances between them in each frame.
Europa
Later in the show, audiences are catapulted onto Europa - one of Jupiter's moons-where Adrian Veidt has been exiled by Doctor Manhattan as punishment for releasing the giant squid.
In the early stages of the project, Senior Visual Effects Supervisor Erik Henry spoke to a mission scientist from Jet Propulsion Laboratory's Clipper mission, which is actually scheduled to land on Europa this decade, who was able to describe the planet's temperature and luminance, as well as it's surface.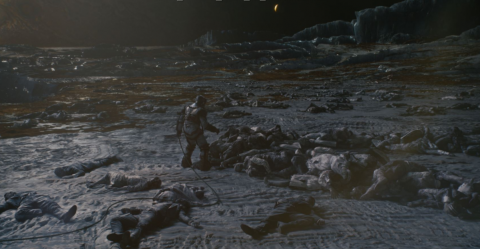 EUROPA
This allowed Hybride artists to create the environment as accurately as possible and recreate its unique atmosphere. The team also created various digi-doubles of the Crookshanks and Philips characters, each with three or four variations of clothing and used ragdoll simulations to generate frozen dead bodies falling to the ground. Thousands of bodies were then scattered across the moon's surface to form the words "save me".
Additional visual effects produced by Hybride for the show include:
The creation of a complex set extensions, monitor content inserts (motion graphics) and baby squids for the Squid Room where the squid are created;
Crowds of digital soldiers, airplane, propaganda flyers falling from the sky for the WW1 flashback scene;
Face replacements, photo-real 3D CG fire, smoke and embers for the box enclosure located on a stage where Veidt burn his victims during a play he puts on to the story of Doctor Manhattan's origins.


Both fans and critics alike acclaimed the Watchmen series, which scored 95% on Rotten Tomatoes Tomatometer. It is unsure, however, if there are plans for Dr. Manhattan to return. Fingers crossed!
Credits
Watchmen (2019)
Season 1 (9 episodes)

Aired from October 20 to December 15, 2019, on Home Box Office (HBO),
produced by DC Comics. Now available on Amazon Prime.
Directors: Steph Green, Nicole Kassell, Adrij Parekh and Stephen Williams 
Senior Visual Effects Supervisor: Erik Henry

VFX Workload: 265 shots 
Cumulative Duration: 24.5 minutes
Project Timeframe: 17 months (July 2018 to November 2019)
VFX Description: design, tracking, layout, lighting, texture, modeling, animation, compositing.
LAYOUT / TRACKING
Steve Pelchat, (lead layout/tracking)
Alain Lacroix
Benoit Morin
Samuel Loriault-Goulet
Yassine Triki
TEXTURE & LIGHTING
Christophe Damiano, (lead textures/lighting)
Maryse Bouchard, (lead textures/lighting)
Alexandre Tessier
Christian Menard
David Dambremont
Doréa Fontaine
Gabrielle Marchand
Ian Allard
Marie-Claude Aubry
Mathieu Beaudoin
Maxime Vysniausk
Mélissa Almeida
Nicolas Leroy
Robert Buca
Samuel Jacques
Steve Fraser
Valérie Villeneuve
Vassilios Lanaris
FX ANIMATORS
Danny Levesque (Lead FX Animator)
Bertrand Cabrol
Dang Vy Nguyen
Francis Beauregard
Frédéric Fortin
Glenn Curry
Jérémie Chagnon
Julien Dubusset
Kishen PJ
Louis Desrochers
Luigi Duranti
Richard Clément Tam
Stéphane Arsenault
TECHNICAL DIRECTORS
Patrick Piche, (lead technical director)
Bruno-Pierre Jobin
Daniel Bros
John Mark Gibbons
Jimmy Caron
Mathieu Leclaire
Michel Bergeron
DIGITAL ENVIRONMENT ARTIST
Michael Havart
Antoine Goncalves
MODELERS
Marco Tremblay, (Environment Supervisor)
David Roberge
Mathieu Lalonde
Matthew Smith
Miguel Berube Ouellet
Philippe Vachon
Robert De La Cruz
Varun Sanjivi
Vikramjit Sorensangbam
ANIMATORS
Alexandre Alin
Eduardo Azcue
Jordan Benning
Josef Sy
Marc Aubry
Mary Yang
William Campbell
PRESIDENT AND HEAD OF PRODUCTION
Pierre Raymond
EXECUTIVE VICE PRESIDENT
Michel Murdock
PRODUCTION VICE PRESIDENT
Thierry Delattre
HEAD OF PRODUCTION MONTREAL STUDIO
Mathieu Boucher
VISUAL EFFECTS SUPERVISOR
François Lambert
VISUAL EFFECT PRODUCERS
Louise Bertrand
Richard Martin
Sébastien Racine
Yanick Wilisky
COMPOSITING SUPERVISORS
Ashish Dewan
Michel Barrière
Olivier Beaulieu
Paul Saint-Hilaire
Simon Marinof
ANIMATION SUPERVISOR
Kenneth Steel
COMPUTER GRAPHICS SUPERVISORS
Christopher Ahrens
Emmanuel Pelletier
Philippe Théroux
VISUAL EFFECT COORDINATORS
Audrey Deschênes
Caitlin Howell
Karina Mariano
Leo-Partick Houde
Marc St-Gelais
Marlène Circé
Martine Losier
Yann Nicolas
RESSOURCE COORDINATOR
Sylvain Rioux
TECHNICAL SUPPORT
Jason Bohbot
Karim Besbes
Luc Desmarais
Mélanie Cotton
Olivier Painchaud
Stephan Gervais
COMMUNICATIONS
Sylvie Talbot
Anne Tremblay
ADMINISTRATION
Caroline Bélisle
Isabelle Desrochers
Marie Nakhlé
DIGITAL COMPOSITORS
Jérôme Foucout (Lead Digital Compositor)
Martin Lipmann (Lead Digital Compositor)
Alban Kasikci
Alice Pépujol
Belly Mingmuong
Benoit Legrois
Carl St-Pierre
Charles Tremblay
Cynthia Rodriguez
Daniel Cregan
Éloi Brunelle
Elsa Lemire
Fabien Felicite-Zulma
François Leduc
Francis Pasquarelli
Gabriel Couture-Bojanowski
Jeffrey Jin
Julie Therrien
Justin Hébert
Louis-Alexandre Lord
Marc Taganas
Marc-Olivier Simoneau
Mathieu Boudreau
Matthieu Chatelier
Mauricio Salas
Maxime Besner
Maxime Ferland
Olivier Gravel
Patrick Tassé
Samuel Lepage-Bédard
Thomas Hallé
Véronique Guay
Vincent Mak
Xavier Larocque
MOTION GRAPHICS
Edouard Buttiero
PAINT & ROTO
Juliette Compignie (Lead Paint & Roto )
Anne Fortin
Cédric Pépin
Charles-Étienne D'Amours
Christophe Trudel
Dominique Richer
Érika Normandin
James Daniel Haines
Jeff Blouin
Léa Vuillemin
Marie-Eve St-Amour
Mélissa Laframboise Maillé
Sylvain Régnié
Yannick Bissonnette
CHARACTER RIGGING
Mark Masson, (lead character rigging)
Stephane Jean-Mary
VFX EDITORS
Guillaume St-Aubin
Sébastien Rioux
I/O TECHNICIANS
Jonathan Perth
Jordan Picotte
Samuel Cardinal