Tom Clancy's Jack Ryan - Season 2
2018 - 

Season 2 (8 episodes)

Released on October 31, 2019, on Amazon Prime, produced by Amazon Studios. 

VFX Workload: 66 shots
Cumulative Duration: 3.5 minutes
Project Timeframe: 5 months (March to July 2019)
VFX Description: design, tracking, layout, lighting, texture, modelling, animation, compositing.
---
On this project, Hybride teamed up once again with VFX Supervisor Erik Henry, who has been working on the Jack Ryan series since the show started. The Hybride crew was back on board to create seamless and hyper realistic visual effects for this second season after producing 222 shots in Season 1 (2018).
For this second edition, Hybride's contribution to the project can be sorted mostly in three types of effects: CG crowds, digital environments and a Blackhawk helicopter.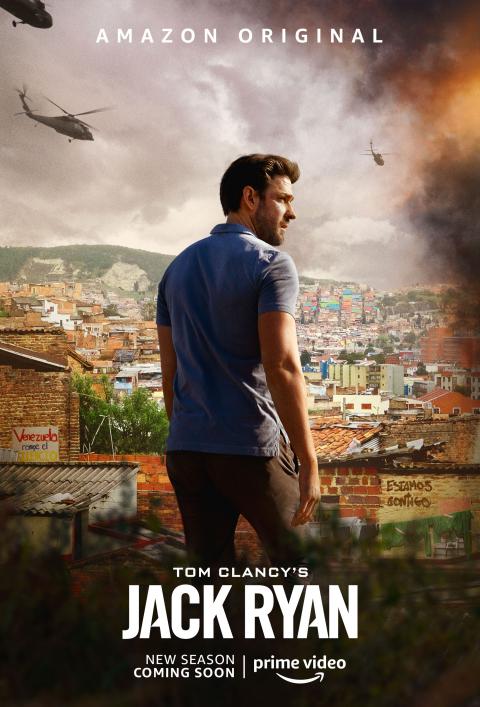 Tom Clancy's Jack Ryan Season 2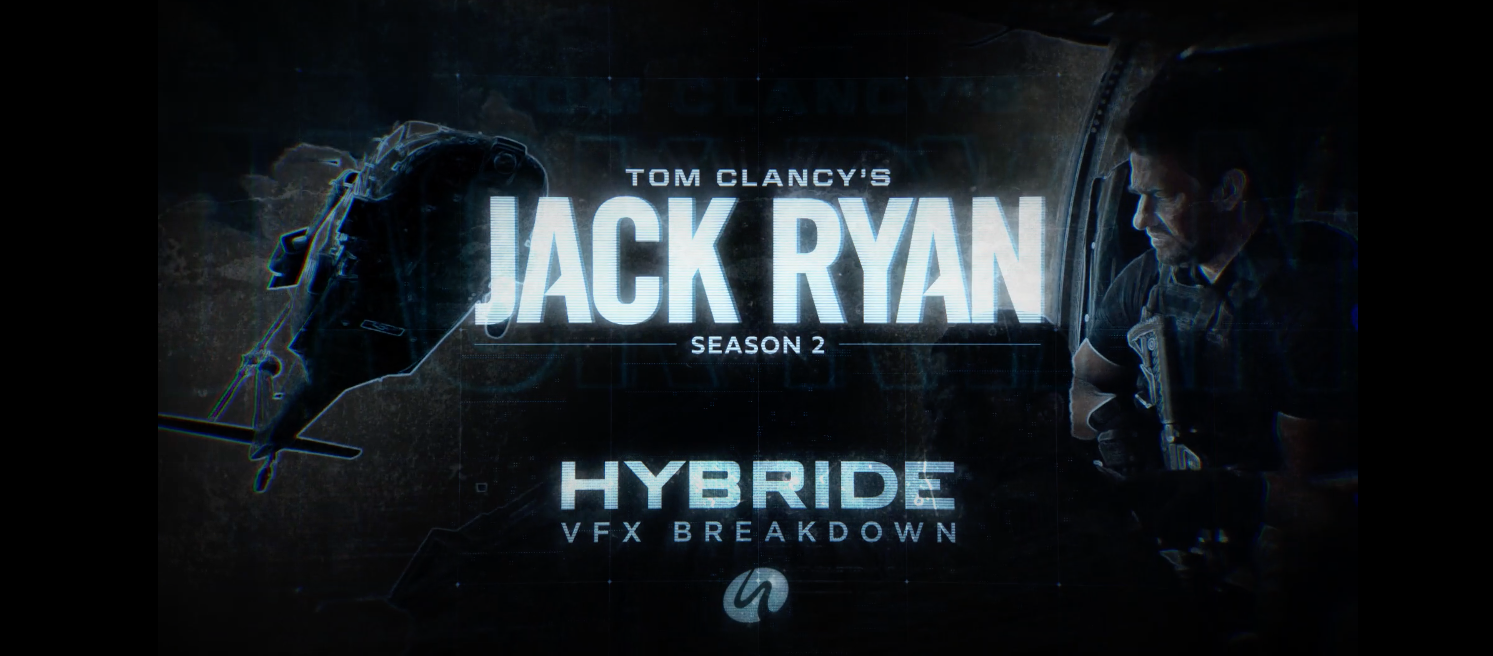 We know how to draw crowds 
Digital crowds were created to enhance the shots of extras filmed on screen for the riot scenes, as well as for the scenes where the President is seen giving a speech. Under the direction of Hybride CG Supervisor Emmanuel Pelletier, the character motion data was recorded at Ubisoft Montreal's motion capture studio to create a database of movements for the crowds.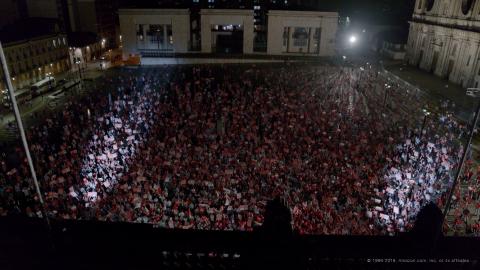 CG CROWDS
"We recorded specific actions such as running, rock throwing, people gesturing and waving their arms; with some holding props like signs, banners and sticks..." explained Pelletier.
Get to the chopper
During the riot scene in episode 6, the Hybride crew jumped on board to support the visual storytelling of the American diplomats' extraction sequence with a digitally enhanced Blackhawk helicopter.
In episode 8, Hybride's CG Blackhawk was used to enhance the live helicopter used on set and merge it into its location. A few additional digital characters had to be recreated, smoke and landings were added, in addition to the reflections seen in the buildings and the helicopter windows.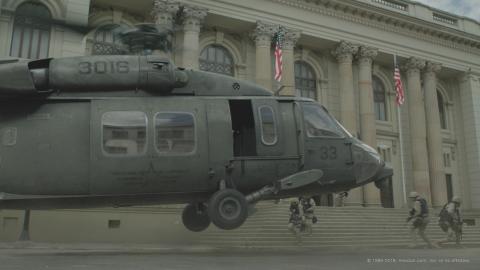 GET TO THE CHOPPER
Bogota
For the rescue mission at the Presidential Palace that takes place in episode 8, Hybride artists used a mix of techniques to accurately recreate the digital environment. "2.5D matte painting (based on drone file captures) were used for the city backgrounds and the palace was done entirely in CG, except for its entrance, which was built on the field lot of the Bogota-shot scene," added Pelletier.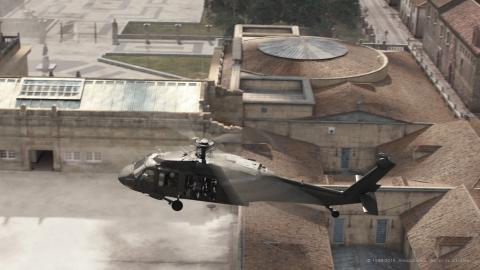 BOGOTA
"In these shots, the visual effect enhancements are almost impossible to detect... even for the most CG-trained eye, it's really quite impressive!" said Visual Effects Producer Yanick Willisky with a smile, "it was really fun to do, actually."


Following the success of the political thriller's season 1, which has been nominated in two categories at the 2019 Emmy Awards - including Outstanding Special Visual Effects In A Supporting Role - Amazon Studios have already announced that the John Krasinski-fronted Tom Clancy's Jack Ryan will be back for a third season. 
LAYOUT / TRACKING
Steve Pelchat, (Lead Layout & Tracking)
Alain Lacroix
Benoît Morin
Samuel Loriault-Goulet
Yassine Triki
TEXTURE & LIGHTING
Antoine Goncalves
Léane Morin
Maxime Vysniauskas
Nicolas Leroy
Samuel Jacques
Steve Fraser
Vasilios Lanaris
FX ANIMATORS
Dang Vy Nguyen
Jérémie Chagnon
Louis Desrochers
TECHNICAL DIRECTORS
Patrick Piché, (Lead Technical Director)
Bruno-Pierre Jobin
Jimmy Caron
Mathieu Leclaire
Michel Bergeron
MODELERS
Marco Tremblay, (Environment Supervisor)
Michael Havart, (Digital Environment Artist)
Miguel Berube Ouellet
Robert De La Cruz
Vikramjit Sorensangbam
ANIMATOR
William Campbell
PRESIDENT AND HEAD OF PRODUCTION
Pierre Raymond
EXECUTIVE VICE PRESIDENT
Michel Murdock
PRODUCTION VICE PRESIDENT
Thierry Delattre
HEAD OF PRODUCTION MONTREAL STUDIO
Mathieu Boucher
VISUAL EFFECTS SUPERVISORS
François Lambert
COMPUTER GRAPHICS SUPERVISORS
Christopher Ahrens
Emmanuel Pelletier
Philippe Théroux
VISUAL EFFECT PRODUCERS
Louise Bertrand
Richard Martin
Sébastien Racine
Yanick Wilisky
VISUAL EFFECT COORDINATORS
Audrey Deschênes
Caitlin Howell
Karina Mariano
Marc St-Gelais
Marlène Circé
Martine Losier
RESSOURCE COORDINATOR
Sylvain Rioux
TECHNICAL SUPPORT
Jason Bohbot
Karim Besbes
Luc Desmarais
Mélanie Cotton
Olivier Painchaud
Stephan Gervais
COMMUNICATIONS
Sylvie Talbot
Anne Tremblay
ADMINISTRATION
Caroline Bélisle
Isabelle Desrochers
DIGITAL COMPOSITORS
Paul Saint-Hilaire, (Compositing Supervisor )
Ashish Dewan, (Lead Digital Compositor)
Alice Pépujol
Gabriel Couture-Bojanowski
Jérôme Foucout
Julie Therrien
Marc-Olivier Simoneau
Maxime Besner
Maxime Ferland
VFX EDITORS
Guillaume St-Aubin
Sébastien Rioux
PAINT & ROTO
Juliette Compignie, (Lead Paint & Roto)
Cédric Pépin
Dominique Richer
James Daniel Haines
Mélissa Laframboise Maillé
CHARACTER RIGGING
Mark Masson, (Lead Character Rigging)
Daniel Bros
John Mark Gibbons
Stephane Jean-Mary
I/O TECHNICIANS
Christophe Trudel
Érika Normandin
Jeff Blouin
Jonathan Perth
Jordan Picotte
Samuel Cardinal