(2017)
Teaming up with ILM in Vancouver, Hybride skillfully crafted 248 visual effect shots for several different sequences in the film. This latest instalment marks Hybride's 3rd incursion into the Star Wars universe, and 12th collaboration with ILM. It also represents the studio's most important contribution to the franchise thus far, and an extremely varied workload in terms of types of effects produced for the show. 
Having taken her first steps into a larger world in Star Wars: The Force Awakens, Rey continues her epic journey with Finn, Poe and Luke Skywalker in the next chapter of the saga. As we return back to oceanic Planet Ahch-To, we find Rey training with her light saber on a high mountain ledge.
Star Wars: The Last Jedi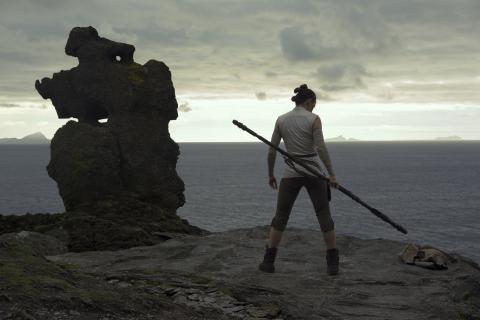 Hybride created CG environments for the scene, including the islands seen in the background, which needed to match the look of the islands seen at the end of The Force Awakens. The main challenge in this sequence lied however, in replacing the wooden stick used by the actress on set with a light saber, which required meticulous tracking and matchmoving by Hybride's tracking team. Hybride FX artists also produced particle effects when Rey slices through a rock and it crumbles into pieces and tumbles down into the water.
Sharing look assets with ILM, the studio generated photoreal VFX for a nighttime fight scene between Rey and Luke Skywalker in the rain. Hybride's FX artists created close up and backdrop rain effects, 3D CG environments, lightning bolts and storm clouds.
Hybride's work on The Last Jedi also includes the creation of impressive 3D CG backgrounds, massive set extensions, and motion graphics for most of the scenes inside the Mega Destroyer. The studio designed and produced completely CG environments to replace the initial set and populated them with CG soldiers and Storm Trooper crowds.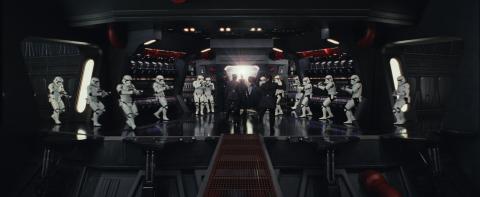 The Hybride team also animated BB-9E, BB-8's evil twin, produced holograms and modified the robot's reflective exterior - replacing green screens and set equipment with the appropriate lighting and reflections. The studio also created impressive background extensions for the Flux Capacitor shots, in addition to creating the Flux Capacitor itself. Additionally, the studio replaced and corrected reflections on Captain Phasma's armor, which required flawless tracking and matchmoving work from Hybride's artists.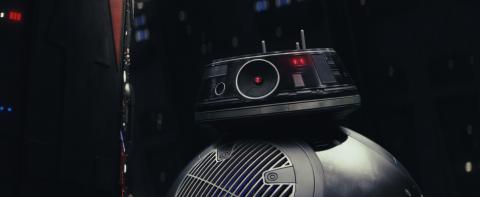 BB-9E
Other VFX work by Hybride also includes the design and creation of numerous holograms, seen throughout the film - including The First Order Tie Fighter and the Mega Destroyer - replacing green screens in windows with hyperspace effects, star filled skies and laser effects reflections. The studio also produced CG numerous characters and impressive holograms for several different shots - including Benecio Del Toro's characters' holographic used vehicle catalog. 
LAYOUT / TRACKING
Steve Pelchat, LEAD
Alexandre Alin
Alexandre Corbin
Alain Lacroix
Samuel Loriault-Goulet
Frédéric Medioni
Benoit Morin
TEXTURE & LIGHTING
Maryse Bouchard, LEAD
Christophe Damiano, LEAD
Yanick Gaudreau, LEAD
Mélissa Almeida
Marie-Claude Aubry
Michaël Bentitou
Julien Chabot
Steve Fraser
Frédérick Gaudreau
Vassilios Lanaris
Nicolas Leroy
Christian Ménard
Valérie Villeneuve
Alexandre Tessier
FX ANIMATORS
Richard Clément-Tam, LEAD
Glenn Curry
Julien Dubusset
Frédéric Fortin
Jean-François Gallant
Pascal Lortie Langlois
Gabriel Martin
Dang Vy Nguyen
TECHNICAL DIRECTORS
Patrick Piché, LEAD
Michel Bergeron
Mathieu Leclaire
MODELERS
Marco Tremblay, LEAD
Miguel Bérubé Ouellet
Annabelle Chevrier
Robert De La Cruz
Mathieu Lalonde
David Roberge
Vikramjit Sorensangbam
ANIMATORS
Édouard Buttiero
Steve Cady
Marc Aubry
Josef Sy
CHARACTER RIGGING
François Chancrin, LEAD
Stéphane Jean-Mary
PRESIDENT AND HEAD OF OPERATIONS
Pierre Raymond
VISUAL EFFECTS FINANCIAL CONTROLLER
Michel Murdock
VISUAL EFFECTS EXECUTIVE PRODUCER
Thierry Delattre
VISUAL EFFECTS SUPERVISORS
Joseph Kasparian
François Lambert
COMPUTER GRAPHICS SUPERVISORS
Mathieu Boucher
Philippe Théroux
Émmanuel Pelletier
COMPOSITING SUPERVISORS
Olivier Beaulieu
Michel Barrière
Benoit Legros
CREATIVE SUPERVISOR
Pierre Blain
VISUAL EFFECT PRODUCERS
Louise Bertrand
Yannick Wilisky
LINE PRODUCER
Richard Martin
VISUAL EFFECT COORDINATORS
Joannie Croteau
Catherine Lecavalier
Martine Losier
Karina Mariano
RESSOURCE COORDINATOR
Sylvain Rioux
TECHNICAL SUPPORT
Jason Bohbot
Félix Clément
Mélanie Cotton
Luc Desmarais
Stéphan Gervais
Olivier Painchaud
COMMUNICATIONS
Sylvie Talbot
Anne Tremblay
ADMINISTRATION
Caroline Bélisle
Dolorès Tardif
SEQUENCE LEAD DIGITAL COMPOSITORS
Olivier Gravel
Maxime Lemieux
Samuel Lepage-Bédard
DIGITAL COMPOSITORS
Mathieu Boudreau
Éloi Brunelle
Matthieu Châtelier
Gabriel Couture-Bojanowski
Ashih Dewan
Maxime Ferland
Mathieu Girard
Véronique Guay
Nadine Homier
Bruno-Pierre Jobin
Xavier Larocque
Martin Larrivée
François Leduc
Elsa Lemire
Louis-Alexandre Lord
Jocelyn Maher
Belly Mingmuong
Alice Pépujol
Sébastien Rioux
Cynthia Rodriguez
Mauricio Salas
Paul Saint-Hilaire
Katy Savoie
Guillaume St-Aubin
Julie Therrien
Véronique Tremblay
Raphaël Vallé
Jean-Frédéric Veilleux
MOTION GRAPHICS
Geoffroy Lauzon
PAINT & ROTO
Léa Vuillemin, LEAD
James Daniel Haines
Justin Hébert
Mélissa Laframboise Maillé
PRODUCTION ASSISTANTS
Jeff Blouin
Erika Normandin
Marie-Ève St-Amour
Christophe Trudel