The Mandalorian - Season 1
2019 - 
Season 1 (8 episodes)
Released on November 12, 2019, on Disney+, produced by Lucasfilm.
 
VFX Workload: 451 shots 

Cumulative Duration: 20.5 minutes
Project Timeframe: 15 months (August 2018 to October 2019)
VFX Description: Design, tracking, layout, lighting, texture, modelling, animation, compositing.
---
When Lucasfilm contacted Hybride to collaborate on the series' VFX, the studio was definitely onboard. It was in fact the next logical step, after creating impressing VFX for The Force Awakens (2015), The Last Jedi (2017) and The Rise of Skywalker (2019), Rogue One (2016) and Solo (2018).
Hybride's contribution on The Mandalorian was mostly focused on two key elements: bringing the IG-11 bounty hunter droid to 'life' and creating full CG environments for Nevarro City and the Lava Flats, a huge environment made out of flat lava rocks that stretch out endlessly.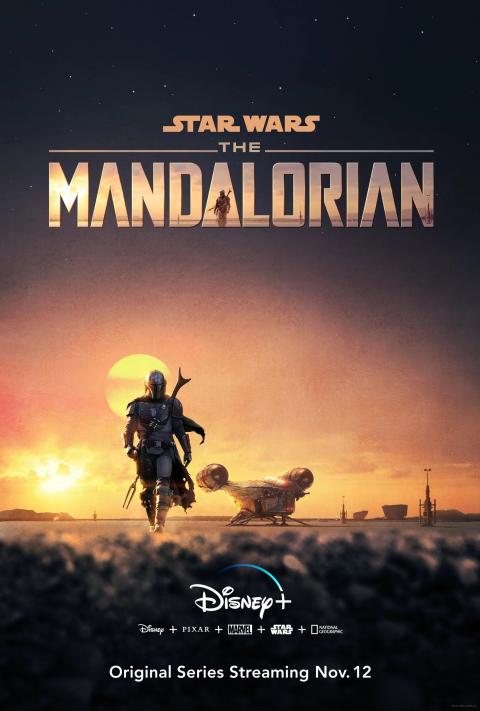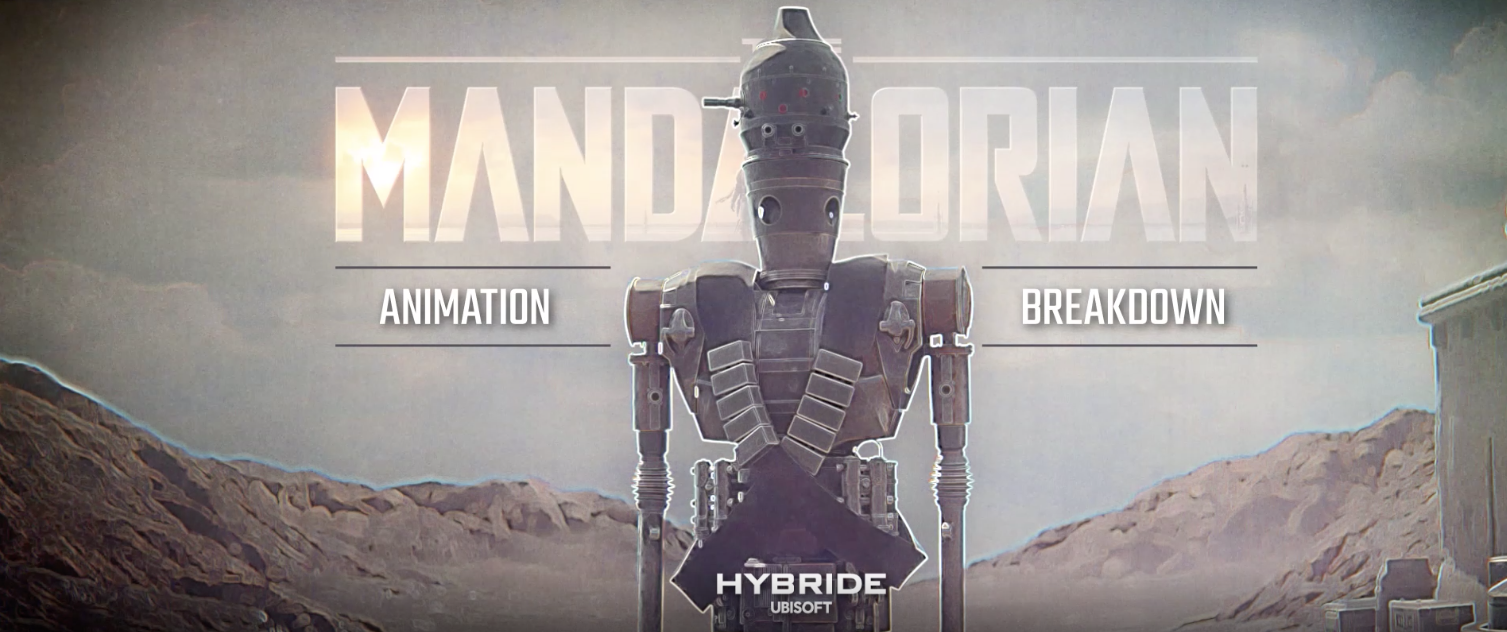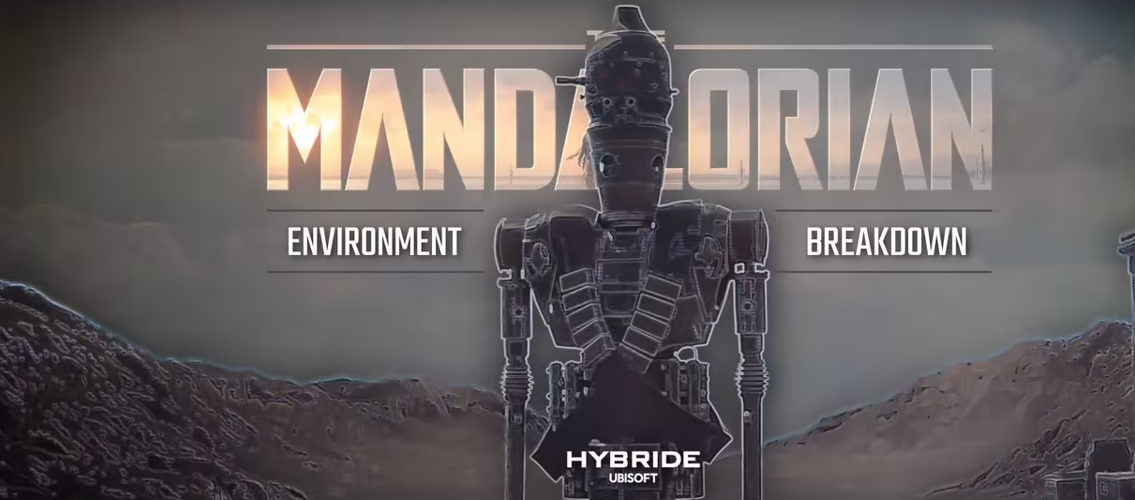 The meanest robot in town
In our story, IG-11 is a relentless bounty hunter who will stop at nothing to get his mark. With his double jointed shoulders and elbows, hydraulic arms and legs, and his ability to rotate his head and torso 360 degrees, IG-11 has the ability to quickly transform into a ruthless killing machine.
To help match the live action puppet of IG more accurately, Hybride sent a detailed CG version of IG to be 3D printed. These 3D prints were then used to create the live version of the puppet used on set.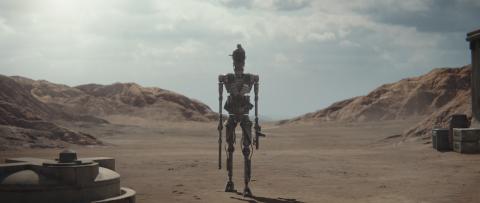 IG-11 THE MEANEST ROBOT IN TOWN
At the beginning of IG-11's design phase, Animation Director Hal Hickle, presented the Hybride team with the unique opportunity of creating an original character that hadn't been seen in the Star Wars universe before.
The original brief was to have IG-11 appear to be made out of old and heavy car parts. His joints needed to be animated as if they were loosely fitted together in order to give him a nonthreatening appearance.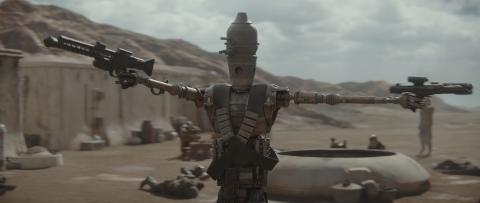 IG-11 THE MEANEST ROBOT IN TOWN
IG-11 also has no specific facial features except for a pair of crude binoculars that generally imply the direction of where he might be looking. Given these constraints, Hybride's animation team needed to convey what IG was thinking, through his stilted actions alone. Together, these character elements created a unique opportunity to explore the different facets of this seemingly unemotional robot. IG-11 is a simple yet nuanced character that the team thoroughly enjoyed playing a part in bringing him to the screen.
Nevarro
The Nevarro environment is located in a dusty volcanic wasteland with its Main City built around the remains of past lava eruptions. The CG landscape, filled with a large variety of lava rocks and volcanic ground structures, was built based on ultra hires photogrammetry scans taken from locations in Hawaii, and Iceland.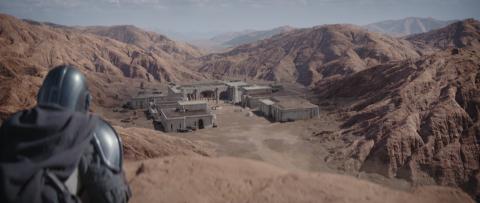 NEVARRO

The large-scale data set was then processed and stored in a model library. The scan was then cleaned up in order to remove light and shadows, and all of the maps were colour balanced so the rock pieces would match one another. The ground's surface was created from multiple high-resolution textures and different reflection attributes to imitate the look of lava. The textured layers were then mixed to obtain a natural ground behavior that takes into consideration sand and rock elevations and reflections.
The resulting library was made accessible to Hybride's artists in order to create the different types of surrounding topographies. Based on set pictures and Lidar scans, they created a massive library of city elements such as building facades, ground assets, street props and towers, which were used to assemble a dozen scenes. 
Overall, 250 assets were painted based on the provided artwork and the colour scheme was set to blend perfectly into the set. Afterwards, an overall weathering pass was performed in order to unify the city's aging infrastructure.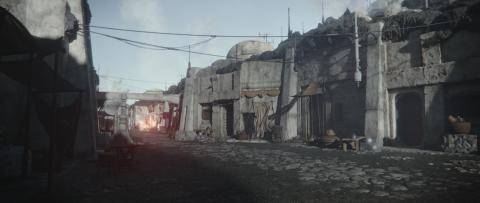 NEVARRO
The workflow was designed to control multiple asset resolutions, with infinite points of view. Using the approved artwork as a guideline, several sub-locations of the city were digitally generated starting from the streets, all the way up to the Courtyard set extension. This approach made it easier to generate additional shots for large sequences made up of various sub locations without compromising the end result in a fast-paced TV series production such as The Mandolorian.
LAYOUT / TRACKING
Steve Pelchat, (lead layout/tracking)
Alain Lacroix
Benoît Morin
Samuel Loriault-Goulet
Stéphane Maillet
Yassine Triki
TEXTURE & LIGHTING
Christophe Damiano, (Lead Textures & Lighting)
Maryse Bouchard, (Lead Textures & Lighting)
Yanick Gaudreau, (Lead Textures & Lighting)
Alexandre Tessier
Antoine Goncalves
Christian Ménard
David Dambremont
Doréa Fontaine
Gabrielle Marchand
Karine Tuffeli-Rail
Léane Morin
Marie-Claude Aubry
Mathieu Beaudoin
Myriam Ricard-Lalonde
Nicolas Scuntaro
Quentin Luna
Robert Buca
Samuel Jacques
Steve Fraser
Steven Quinones-Colon
Valérie Villeneuve
FX ANIMATORS
Danny Levesque, (Lead FX Animator)
Dang Vy Nguyen
Francis Beauregard
Jérémie Chagnon
Kishen PJ
Louis Desrochers
Luigi Duranti
Richard Clément Tam
Stéphane Arsenault
TECHNICAL DIRECTORS
Patrick Piché, (Lead Technical Director)
Bruno-Pierre Jobin
Jimmy Caron
Mathieu Leclaire
Michel Bergeron
MODELERS
Marco Tremblay, (Environment Supervisor)
David Roberge
Mathieu Lalonde
Matthew Smith
Miguel Berube Ouellet
Philippe Vachon
Robert De La Cruz
ANIMATORS
Alexandre Alin
Eduardo Azcue
Jordan Benning
Josef Sy
Mary Yang
William Campbell
PRESIDENT AND HEAD OF PRODUCTION
Pierre Raymond
EXECUTIVE VICE PRESIDENT
Michel Murdock
PRODUCTION VICE PRESIDENT
Thierry Delattre
HEAD OF PRODUCTION MONTREAL STUDIO
Mathieu Boucher
VISUAL EFFECTS SUPERVISORS
François Lambert
Joseph Kasparian
COMPUTER GRAPHICS SUPERVISORS
Christopher Ahrens
Emmanuel Pelletier
Philippe Théroux
COMPOSITING SUPERVISORS
Michel Barrière
Olivier Beaulieu
Simon Marinof
VISUAL EFFECT PRODUCERS
Louise Bertrand
Richard Martin
Sébastien Racine
Yanick Wilisky
ANIMATION SUPERVISOR
Kenneth Steel
VISUAL EFFECT COORDINATORS
Audrey Deschênes
Caitlin Howell
Catherine Lecavalier
Joanie Croteau
Karina Mariano
Leo-Partick Houde
Marc St-Gelais
Yann Nicolas
RESSOURCE COORDINATOR
Sylvain Rioux
TECHNICAL SUPPORT
Jason Bohbot
Karim Besbes
Luc Desmarais
Mélanie Cotton
Olivier Painchaud
Stephan Gervais
COMMUNICATIONS
Sylvie Talbot
Anne Tremblay
ADMINISTRATION
Caroline Bélisle
Isabelle Desrochers
Marie Nakhlé
DIGITAL COMPOSITORS
Olivier Gravel, (Lead Digital Compositor)
Matthieu Chatelier, (Lead Digital Compositor)
Pierre Blain
Alice Pépujol
Belly Mingmuong
Christopher Payne
Daniel Cregan
Éloi Brunelle
Elsa Lemire
François Leduc
Gabriel Couture-Bojanowski
Jeffrey Jin
Jennifer Harlow
Jocelyn Maher
Julie Therrien
Justin Hébert
Katy Savoie
Marc-Olivier Simoneau
Mathieu Boudreau
Maxime Besner
Maxime Ferland
Maxime Lemieux
Patrick Tassé
Samuel Lepage-Bédard
Véronique Guay
Véronique Tremblay
Vincent Mak
Xavier Larocque
VFX EDITORS
Guillaume St-Aubin
Sébastien Rioux
PAINT & ROTO
Juliette Compignie, (Lead Paint & Roto )
Mélissa Laframboise Maillé, (Lead Paint & Roto )
Anne Fortin
Cédric Pépin
Charles-Étienne D'Amours
Christophe Trudel
Dominique Richer
Érika Normandin
James Daniel Haines
Jeff Blouin
Marie-Eve St-Amour
Sylvain Régnié
Yannick Bissonnette
MOTION GRAPHICS
Edouard Buttiero
CHARACTER RIGGING
Mark Masson, (Lead Character Rigging)
Daniel Bros
John Mark Gibbons
Stephane Jean-Mary
I/O TECHNICIANS
Jonathan Perth
Jordan Picotte
Samuel Cardinal