(2017)
Teaming up once again with visual effects supervisor Erik Henry, Hybride artists skilfully crafted 222 undetectable visual effect shots for different sequences in all 8 episodes, for a total of 17 minutes of screen time.
For this first season of Jack Ryan, Hybride's participation on the project involved designing strikingly realistic set extensions for refugee camps and army bases, creating digital doubles and hard surface vehicles, and also included the creation of explosion effects and weapon enhancements for several scenes in the show.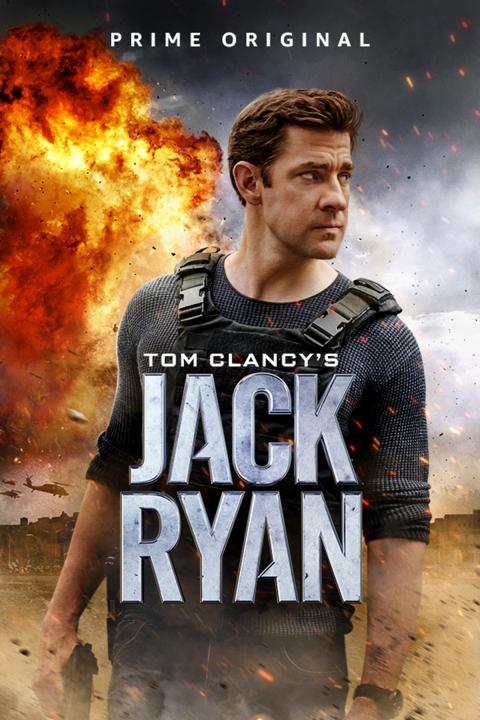 Tom Clancy's Jack Ryan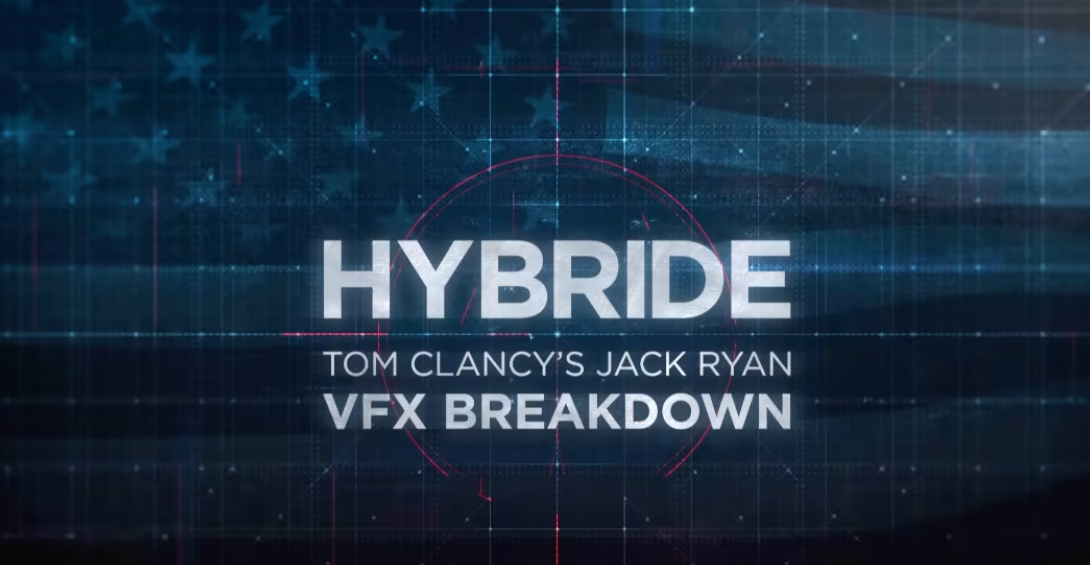 The studio also produced organic simulations, explosion and ballistic effects intensifications, in addition to creating different types of CG elements such as fences, vegetation, debris, and dust.
"Again and again the artists at Hybride deliver for me at a super high level", said Erik Henry Senior Visual Effects Supervisor on the show. "On Tom Clancy's Jack Ryan the task was not an easy one, in that we needed a CG subway to interact very closely with our lead actor.  Production supplied a lighting rig for interactive lighting to sweep over the actor.  Next, the talented crew at Hybride produced multiple shots of the train seamlessly composited with the actor in what appears to be a dangerously close proximity.  Hybride also extended a forward operating base in the Moroccan desert and also produced CG Blackhawks to add scope to the show. As always, they delivered on time and on budget.  I can't wait for the next collaboration".
Tom Clancy's Jack Ryan follows CIA analyst Jack Ryan who stumbles upon a suspicious series of bank transfers to Yemen. His search for answers pulls him from the safety of his desk job and catapults him into a deadly game of cat and mouse throughout Europe and the Middle East, with a rising terrorist figurehead preparing for a massive attack against the US and her allies.
LAYOUT / TRACKING
BENOIT MORIN
FRÉDÉRIC MEDIONI
SAMUEL LORIAULT-GOULET
ALAIN LACROIX
ALEXANDRE CORBIN
STEVE PELCHAT, Lead
TEXTURE & LIGHTING
MICHAËL BENTITOU
JULIEN CHABOT
MARIE-CLAUDE AUBRY
MÉLISSA ALMEIDA
YANICK GAUDREAU, Lead
MARYSE BOUCHARD, Lead
STEVE FRASER
FRÉDÉRICK GAUDREAU
VASSILIOS LANARIS
NICOLAS LEROY
CHRISTIAN MÉNARD
VALÉRIE VILLENEUVE
ALEXANDRE TESSIER
CHRISTOPHE DAMIANO, Lead
FX ANIMATORS
JULIEN DUBUSSET
RICHARD CLÉMENT TAM, Lead
FRÉDÉRIC FORTIN
JEAN-FRANÇOIS GALLANT
DANG VY NGUYEN
GABRIEL MARTIN
PASCAL LORTIE LANGLOIS
GLENN CURRY
TECHNICAL DIRECTORS
PATRICK PICHÉ, Lead
MICHEL BERGERON
MATHIEU LECLAIRE
MODELERS
DAVID ROBERGE
MIGUEL BÉRUBÉ OUELLET
MARCO TREMBLAY, Lead
ANNABELLE CHEVRIER
ROBERT DE LA CRUZ
MATHIEU LALONDE
VIKRAMJIT SORENSANGBAM
ANIMATORS
MARC AUBRY
ALEXANDRE ALIN
ÉDOUARD BUTTIERO
STEVE CADY
JOSEF SY
CHARACTER RIGGING
FRANÇOIS CHANCRIN, Lead
STÉPHANE JEAN-MARY
PRESIDENT AND HEAD OF OPERATIONS
PIERRE RAYMOND
VISUAL EFFECTS FINANCIAL CONTROLLER
MICHEL MURDOCK
VISUAL EFFECTS EXECUTIVE PRODUCER
THIERRY DELATTRE
VISUAL EFFECTS SUPERVISORS
JOSEPH KASPARIAN
FRANÇOIS LAMBERT
COMPUTER GRAPHICS SUPERVISORS
MATHIEU BOUCHER
PHILIPPE THÉROUX
EMMANUEL PELLETIER
COMPOSITING SUPERVISORS
BENOIT LEGROS
MICHEL BARRIÈRE
OLIVIER BEAULIEU
CREATIVE SUPERVISOR
PIERRE BLAIN
VISUAL EFFECT PRODUCERS
YANICK WILISKY
LOUISE BERTRAND
LINE PRODUCER
RICHARD MARTIN
VISUAL EFFECT COORDINATORS
KARINA MARIANO
MARTINE LOSIER
CATHERINE LECAVALIER
JOANIE CROTEAU
RESSOURCE COORDINATOR
SYLVAIN RIOUX
TECHNICAL SUPPORT
JASON BOHBOT
FÉLIX CLÉMENT
MÉLANIE COTTON
LUC DESMARAIS
OLIVIER PAINCHAUD
STEPHAN GERVAIS
COMMUNICATIONS
SYLVIE TALBOT
ANNE TREMBLAY
ADMINISTRATION
CAROLINE BÉLISLE
SEQUENCE LEAD DIGITAL COMPOSITORS
OLIVIER GRAVEL
MAXIME LEMIEUX
SAMUEL LEPAGE-BÉDARD
DIGITAL COMPOSITORS
JULIE THERRIEN
VÉRONIQUE TREMBLAY
RAPHAËL VALLÉ
JEAN-FRÉDÉRIC VEILLEUX
MATTHIEU CHÂTELIER
GUILLAUME ST-AUBIN
KATY SAVOIE
XAVIER LAROCQUE
BRUNO-PIERRE JOBIN
NADINE HOMIER
VÉRONIQUE GUAY
MATHIEU GIRARD
MAXIME FERLAND
ASHISH DEWAN
Gabriel Couture-Bojanowski
ÉLOI BRUNELLE
MARTIN LARRIVÉE
FRANÇOIS LEDUC
PAUL SAINT-HILAIRE
MAURICIO SALAS
CYNTHIA RODRIGUEZ
SEBASTIEN RIOUX
ALICE PÉPUJOL
BELLY MINGMUONG
JOCELYN MAHER
LOUIS-ALEXANDRE LORD
ELSA LEMIRE
MATHIEU BOUDREAU
MOTION GRAPHICS
GEOFFROY LAUZON, Lead
PAINT & ROTO
MÉLISSA LAFRAMBOISE MAILLÉ
JUSTIN HÉBERT
JAMES DANIEL HAINES
LÉA VUILLEMIN, Lead
PRODUCTION ASSISTANTS
MARIE-EVE ST-AMOUR
JEFF BLOUIN
ERIKA NORMANDIN
CHRISTOPHE TRUDEL